COVID Information:
For Austin Diocese protocols as of April 25th, 2021, Click HERE for more information. Weekend Masses are no longer live streamed on Sunday on our Facebook page. We encourage you to join our congregation and participate in the Mass with us in real time. We have posted some of Father Pedro's homilies. You can find links to them by navigating to "Messages from Father Pedro" on this website under the "HOME" menu item.
Sunday Offerings should be placed in the Donation Box mounted on the wall in the narthex before entering the church. Collections are also taken up during Mass. To make an online donation click HERE . You may also mail your contributions to the church at P.O. BOX 548, Rockdale, TX 76567.
Normal Mass Times
Saturday – 5:00 PM
Sunday – 9:00 AM & 11:15 AM (Spanish)
Monday – 8:00 AM
Tuesday – 8:00 AM
Wednesday – 8:00 AM
Thursday – 8:00 AM & 6:00 PM (Spanish)
Friday – 12:15 PM
——————————————–
Teen Mass – 1st Saturday of the Month
Sep. – Apr. @ 5:00 PM (open to all parishioners)
The Teen Masses have been temporarily postponed due to COVID and the need to rebuild our youth program.
Daily Mass Readings – Click on the Missal: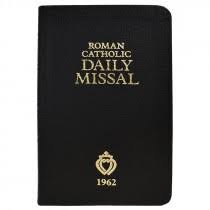 (This link takes you to the Daily Readings page of the USCCB website. You may need to click the arrows to scroll to the date you are interested in.)
Special Masses & Services
Novena for Devine Mercy Sunday
Every day from Good Friday to Saturday before Devine Mercy Sunday at 3:00 PM (April 15th – April 23rd)
——————————————–
Other Services
Eucharistic Adoration
First Friday of the Month: Following the 12:15 PM Mass until 3:00 PM – novena with exposition.
Thursday: After the 6:00 PM Mass until 8:00 PM.
Reconciliation
Saturday: 4:00 PM – 4:45 PM and by appointment.
Devotions
Holy Rosary encouraged to be prayed before all weekend Masses
The Mass Explained – Fr. Mike Schmitz
Inspirational Video About The Mass
---