Important Information:
Coronavirus Update: We are celebrating Masses with a limited congregation size (50% – 100 people) as per the latest Austin Diocese protocols. Two more Masses were added to the normal Mass schedule as listed below; another Spanish Mass was added at 7:00 PM on Saturdays and a daily Mass was added at 8:00 AM on Mondays. Weekend Masses are live streamed on our FaceBook page; the English weekend Masses is live streamed at 9:00 AM on Sundays, and the Spanish weekend Masses is live streamed at 11:15 AM on Sundays.
As per the Austin Diocese, we are no longer embedding the Mass live stream video on this website. If you cannot attend the Mass in person, you are encouraged to watch the live stream in real time and participate in the Mass as it is being celebrated on our Facebook page.
Confessions will be heard on Saturdays starting at 4:00 PM, or by appointment. Please click the "English" or "Spanish" button below for more details about public Masses.
Normal Mass Times
Saturday – 5:00 PM & 7:00 PM (Spanish)
Sunday – 9:00 AM & 11:15 AM (Spanish)
Monday – 8:00 AM
Tuesday – 8:00 AM
Wednesday – 8:00 AM
Thursday – 8:00 AM & 6:00 PM (Spanish)
Friday – 12:15 PM
The Teen Masses have been temporarily postponed.
Teen Mass First Sunday of the Month (September – April) -5:00 PM (Open to all parishioners)
Daily Mass Readings – Click on the Missal: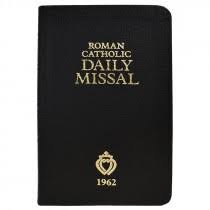 (This link takes you to the Daily Readings page of the USCCB website. You may need to click the arrows to scroll to the date you are interested in.)
Holy Days of Obligation
Please see the bulletin for Mass Times and Information.
November Special Masses
All Souls Day (Mon., Nov. 2nd) – 8:00 AM & 6:00 PM (Spanish)
Mass For Our Nation (Tues., Nov. 3rd) – 8:00 AM [Rosary to follow]
Thanksgiving Mass (Thur., Nov. 26th) – 9:00 AM (Bilingual)
Other Services
---
Adoration
First Friday of the Month: Following the 12:15 Mass until 3:00 PM – novena with exposition.
Thursday: After the 6:00 PM Mass until 8:00 PM.
Confessions
Saturday: 4:00 – 4:45 PM and by appointment.
Devotions
Holy Rosary encouraged to be prayed before all weekend Masses.
The Mass Explained – Fr. Mike Schmitz